We did a survey that spanned three conferences over two years. The survey was on, you guessed it, catheter securement devices. We asked nurses from all over to fill out a short little form, first at AVA 2017, then INS 2018, and finally AVA 2018. The AVA conference is one of the largest gatherings of vascular access professionals and over 1000 clinicians attend every year. The survey confirmed what we already knew – that nurses are using old, outdated products and they want to try new ones.
The survey consisted of two main questions. First: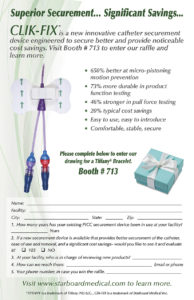 How many years has your existing PICC securement device been in use at your facility?
And second:
If a new securement device is available that provides better securement of the catheter, ease of use and removal, and a significant cost savings – would you like to see it and evaluate it?
We were expecting to find out that nurses were using outdated products, but some of the results even shocked us. A sizable amount of nurses have been using the same catheter securement product for over 20 years. The catheter securement systems they are using were made before the invention of the cell phone, the Kardashians, and the hoverboard.
Let me give you some background on how that came to be.
In 2000 the Needlestick Safety and Prevention Act drove medical device manufacturers to develop engineered devices to reduce needlestick injuries. Today's most commonly used securement device was originally patented in 2000 and released in response to this legislation and clinical need. As the clinical awareness towards the prevention of needlestick injuries grew, so did the use of sutureless securement devices. Soon, guidelines and practice recommendations were developed that encouraged their use. The 2016 Infusion Therapy Standards of Practice recommends using an ESD, but they also recommend to avoid the use of tape or sutures. The market leading device technically does meet the requirements of an ESD, but remember, it was designed 20 years ago. Since then, there have been so many advancements that aren't regularly seen in hospitals because it is easier to stay with the status quo.
Enough background for now. You can read more about it in the actual survey study below. Let's get on to the juicy results.
The purpose of this survey was to gauge how long clinicians have been using the same catheter securement device, and gather opinions from the clinicians on openness to try new products, and that is what we found out. Only 7.4% of the nurses who responded are using updated catheter securement devices, while 70% of nurses have been using the same stuff for over 10 years, and of the 70%, 11.6% have been using the same stuff for 20+ years! Take a minute and think what it would be like if your cell phone that you use today was the same one that you were using 20 years ago. You would be missing out on 20 years of innovation, better technology, and new features. The same can be said about medical devices. At least there is hope – 93% of nurses said they would try and evaluate a new device.
In conclusion, there is a dire desire to try a new catheter securement device among clinicians, and way too many nurses are using old products. If you want to try to do something about this, please click HERE to order samples of Clik-FIX Catheter Securement Devices.
You can read the whole study here →