PICC lines are found in every hospital in every city in every country in the world. They are an essential part of patient care. But, not all catheter securement systems are the same. The current device that most hospitals use have issues that have existed for years! The nurses are so used to them that no one changes a thing. They just… live with it. Well, Clik-FIX catheter securement is different. Below you'll read about 6 reasons why you should switch to Clik-FIX.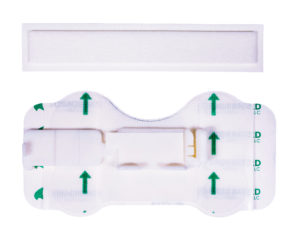 1. Clik-FIX is an innovative, new option in PICC and Central catheter securement.
Designed with care in mind, Clik-FIX is specifically engineered to help prevent inadvertent dislodgement and other movement-related complications by stabilizing the catheter better. Better securement helps maintain catheter position and functionality while assisting in the prevention of catheter-related patient complications.
2. Clik-FIX is easy to place/lock.
Clik-FIX features an innovative and user-friendly method for catheter securement. In order to make securement as easy as possible for clinicians, an adhesive surface had been incorporated into the base of Clik-FIX's locking mechanism. The adhesive surface will hold the catheter in place, freeing up the clinician's hands allowing them to continue placing the securement on the patient. Clik-FIX simplifies the securement process by making it much easier for clinicians and more comfortable for patients.
3. Clik-FIX's active mechanical securement provides a superior hold.
Catheter Securement Devices fall into three categories: active mechanical securement, passive tape-based securement, and subcutaneous securement. Active mechanical securement features an engineered locking mechanism which holds the wings of the catheter in place to reduce catheter movement and inadvertent dislodgement of the catheter.
Clik-FIX allows the securement device to be tightened according to the size of the catheter wings. Unlike other active mechanical devices that lock into a single position, Clik-FIX allows for full securement at multiple positions.
Studies demonstrate Clik-FIX holds nearly 50% better than other securement devices. Clik-FIX is engineered to withstand an 8lb pull force.
4. Clik-FIX helps prevent catheter movement.
In motion studies, Clik-FIX prevents catheter movement and micro-pistoning better than the market leading device and other available devices. Catheter movement and micro-pistoning are serious concerns when securing a catheter. Both catheter movement and micropistoning can lead to threatening complications such as bloodstream infection. Complications often result in early removal of the vascular access device, replacement of the device, and increased hospital stay to treat the patient. All of these issues decrease patient comfort and lead to unnecessary expenses for the hospital.
Research presented at the Association of Vascular Access Conference demonstrated that when a force is applied to the catheter above the securement point it can cause movement below the securement point when secured with the market leading device. The marketing leading PICC-Central Securement device stabilizing similar to sutures by threading the posts through the suture holes, and this is not enough. The same research showed when the catheter was secured with Clik-FIX, there was virtually no movement of the catheter when the same force was applied.  You can read the research here.
5. Clik-FIX is easy to remove.
But.. not too easy. It'll stick to the patient when you want it to and come off without a hassle when you are done with it.
Clik-FIX has been engineered to enhance the catheter line securement, patient comfort, and clinician ease of use. The removal aspect of Clik-FIX is focused on making the experience as comfortable as possible for the patient while keeping clinical ease of use and catheter stability a priority. Removing Clik-FIX does not require using any significant force to open a latch nor does it require removing multiple layers of adhesive material. With one simple motion the device can be unlocked, it can even be done with one hand.
With Clik-FIX, lightly push the notch on top of the device towards the insertion site to open. There is no upward force required, reducing the risk of inadvertent upward force on the catheter.
6. Clik-FIX helps prevent complications and reduces cost.
The main objective of the Clik-FIX product line is to enhance clinical outcomes and reduce overall costs by device design. Clik-FIX is designed to improve catheter stability and may help reduce the number of complications associated with catheter movement. Improvements in stabilization can enhance patient care and comfort and help prevent complication costs. In most situations, Clik-FIX provides immediate cost savings to the facilities who convert.
Clik-FIX proves soft cost saving due to complication prevention and hard costs savings because of its stabilization engineering. On average, facilities that switch to Clik-FIX save at least 20% when compared to their previous securement device.
---
There you have it – 6 reasons why you should switch to Clik-FIX catheter securement devices. It's better for the clinician, better for the patient, and better for the hospital. Why wouldn't you switch?